1/18/2011
EP@$14.25
Buy to Open 10 July 11 Calls for $3.55
Sell to Open  6 Feb 14 Calls for $0.58
1/24/2011
EP@$14.84

We added EP to our long term portfolio last week and it has had a nice rally.  Maybe a little too much of a rally.  We are expecting a small pullback, so we are going to sell the Feb 15 Calls against the long position.
Sell to Open EP Feb 15 Calls for $0.30
Aggressive traders can hold the current position if they feel there is more upside to come, the ratio of 10-6 was used so you are naked long 4 calls.
Conservative traders can do the above or take the trade off for a profit here.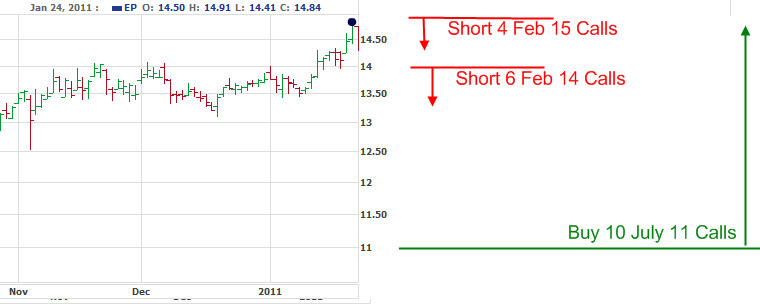 1/31/2011
EP@$15.89
Closing all positions out for a respectable profit.